AUDL Historical Team Rankings

The First Decade: 2012-2021
AUDL Team Net SPI Rankings [2012-2021]
#
Team
Div
Team SPI
Div SPI
Net SPI
1
Toronto Rush
East
79.17
59.11
81.00
2
Dallas Legion
South
73.25
53.05
73.86
3
Carolina Flyers
South
69.49
53.05
70.10
4
Madison Radicals
Cent
73.42
29.39
69.30
5
SF Flamethrowers
West
67.09
45.98
66.28
6
NY Empire
East
58.42
59.11
60.25
7
Oakland Spiders
West
59.12
45.98
58.31
8
Atlanta Hustle
South
57.34
53.05
57.96
9
LA Aviators
West
57.69
45.98
56.88
10
DC Breeze
East
54.44
59.11
56.26
11
Seattle Cascades
West
53.25
45.98
52.45
12
Indianapolis Alleycats
Cent
56.38
29.39
52.26
13
Minnesota Windchill
Cent
55.30
29.39
51.18
14
Pittsburgh Thunderbirds
Cent
55.25
29.39
51.13
15
Chicago Union
Cent
53.50
29.39
49.38
16
Austin Sol
South
48.20
53.05
48.81
17
San Diego Growlers
West
49.61
45.98
48.81
18
Vancouver Riptide
West
48.57
45.98
47.77
19
Tampa Bay Cannons
South
44.49
53.05
45.10
20
Ottawa Outlaws
East
42.97
59.11
44.80
21
Montréal Royal
East
42.80
59.11
44.63
22
Philadelphia Phoenix
East
22.92
59.11
24.75
23
Nashville Nightwatch
South
22.60
53.05
23.21
24
Cincinnati Revolution
Cent
20.22
29.39
16.10
25
Rochester Dragons
East
13.47
59.11
15.29
26
Detroit Mechanix
Cent
9.42
29.39
5.30

Teams not included (fewer than 50 games played through 2021)


Current Teams: Boston Glory, Colorado Summit, Portland Nitro, Salt Lake Shred
Past Teams: Charlotte Express, Columbus Cranes, Connecticut Constitution, NJ Hammerheads, Philadelphia Spinners, Rhode Island Rampage, Salt Lake City Lions
How We Did It
Short Answer: We used a combination of the Monte Carlo method and Poisson Distribution analysis to simulate results from 5000 home and 5000 away games for each of the 26 AUDL teams against "Statistical Average" AUDL away and home teams, respectively. For each of these 260,000 simulations we used final scores sampled from normal distributions of the chosen and average teams to fill a 50x50 bivariate Poisson grid of all possible final scores based on a scoring rate of each of those scores over a 48-minute (regulation non-overtime) game. The calculated probabilities in each cell of the grid were then compiled to determine the overall probability of a win, loss or tie by the chosen team in each simulation. Games were weighted equally regardless of season, with all postseason games counting double.
Long Answer: Click here for all the details ↓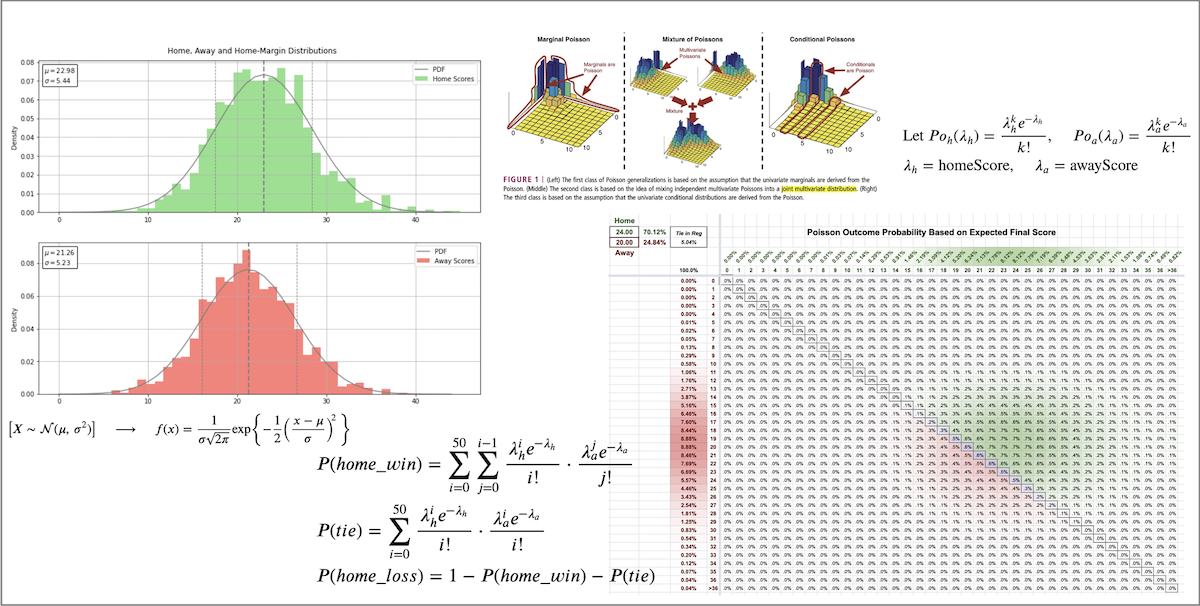 We also included for reference the full
historical won-loss results
(home, away and overall) of all AUDL teams.
Published: 20 Jan 2022, by Don Grage
Based on all AUDL game results through the 2021 season